As recounted in my last post 'THE INTERSECTION," Dad went back to the patent drawing board in 1998 (at the young age of 80).  He was intrigued by various developments in the America's Cup race, and as a new member of the New York Yacht Club, he set out to prove his bona fides both as a sailor and as an inventor.  Accompanied by his usual gusto for going with what he knew.  Natch.
By 1998, there had already been four America's Cup races since the New York Yacht Club lost it in 1983.  A new challenge was pending in 2000 and Dad wanted in.
The race in 1983 had been won by the yacht Australia II due to its specialized keel design.  In fact, when the boat was first brought over from down under, the keel was physically shrouded so that no one could see it!
What was the big secret?
The keel had wings!
Not to fly in the air but in the water!  For once, it wasn't the Americans who came up with the next biggest innovation.  It was an Australian inventor named Ben Lexcen who had beaten everyone to the punch and opened up a new world of keel design.
Born in a small town in New South Wales, he was abandoned by his parents at a young age.  By his late teens, he was already fully engaged as a sailboat designer and manufacturer.  This lad was very mechanically inclined.
In 1982, he filed an application 85668/82 at the Patent Office in Canberra entitled "Yacht Keel With Fins Near Tip." The purpose of the invention was an ingenious way to lengthen the draft (or depth) of the keel yet remain within the prescribed limits of the rules.
Sounds like a contradiction, right?  But it wasn't.
Imagine that the prescribed depth of a racing yacht in a racing class was say, 2 meters, as measured from the waterline to the bottom of the keel when the boat is still and not tipping – as compared to racing in open water.  That's the secret.  When tipped, the keel wings extend downwards effectively creating a deeper draft.  Just when the boat needs it most to counteract leeward drift (which reduces speed).
Interesting, isn't it?  Here's a diagram of the winged keel from my Dad's US patent application 09/012,389 filed January 23, 1998.  Tip the boat in your mind and you will see that the wings create greater depth.
Here's a picture of the actual keel from the winning Australia II yacht.
Images courtesy of Wikipedia.
The reason Dad included this illustration of the winged keel from Lexcen's earlier application is at the heart of the patent process.  This requires you, as the inventor, to cite relevant previous patents, and then argue as to why exactly yours is different; in other words, what is truly novel?  You need to convince the patent office examiner that, yes, your idea is different to a significant degree and is therefore worthy of a patent (a state granted monopoly extended to you whereby you are the only legal producer and seller of your invention).
Dad was convinced that novel keel designs were the key to future victory in the America's Cup.  In his above referenced patent application, he made reference to not only Lexcen's groundbreaking winged keel idea but to nine other inventors and their patents as well.
As Dad put it in the application,
"It therefore seems desirable to design new and improved appendages which are more efficient than the winged keel described in Australian Patent Application AU-A-85 668/82 and used in AUSTRALIA II which won the Americas Cup in 1983."
Simply put, his idea was to use convex keel shapes that could be switched from side to side so as to force the boat into a more severe angle into the wind.  His invention described a process for shifting these shaped keels from side to side as the boat tacks from catching the wind on the left to the right and then back again.
The essence is that the convex surface is always deployed opposite of the wind.  Thus, geometry forces the boat harder against the wind, leeward drift is reduced, and relative speed is increased.
It's actually the same physics that creates lift from an aircraft wing.
One day in 1999, out of the blue (as per his usual style), Dad sent me a copy of this patent application, asking for my comment.  I was amazed by the text.  Gone were the malapropisms, run on sentences, and overuse of "importantly" as a sentence initiator.  It was prose as artful and graceful as sailing itself.
At about this time (late 1990s, early 2000s), Dad signed up for a Team Hood yachting regatta in the Caribbean through the yacht club.  These were overseen by one of the most venerable names in yachting, Mr. Ted Hood.  Winner of the America's Cup in 1974, Ted was deeply involved in the design and manufacture of racing yachts.  He had built Courageous in 1977, the winning defender in 1977.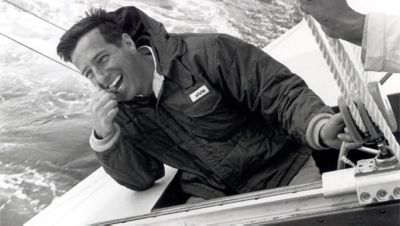 Ted Hood in his prime.
Dad flew down to the Caribbean to grab the tiller whenever he could.  He knew that Ted shared a mutual interest in yacht (and keel) design.  So, when he had his chance, he bent Ted's ear.  The latter, for his part, was impressed, and this led to their collaboration on a new coauthored patent application 10/226,701 in 2002.
Images courtesy of the Team Hood Regatta, Bernard Olcott collection.
Sailing in the Caribbean is not all about work, of course.  Here is Dad pictured with Penny whom, I am sure, he was prepared to enlist as wife no. 6 (stepmother no. 4 for me).  Penny was cute, but egads!  Enough already!
My 4th stepmother, potentially.  One of several.  Image courtesy of the Team Hood Regatta, Bernard Olcott collection.
Back to the patent!  Listing Ted as the lead inventor, the new invention was all about edge.  Instead of wings or using aircraft wing shapes, now the keel could be rotated slightly to force the boat more fully into the wind.  Like Dad's previous patent, this increased momentum in the direction YOU wanted to go and to resist being blown off by the wind.
The ingenuity of this patent was, quite simply, emblematic of Bernard Olcott's colorful life.  The wind constantly in his face, born in a lowly immigrant family mired in an incomprehensible Eastern European language, ruled by an overbearing father who berated him and his brother constantly; he had sought that edge in his life, over and over again.  Whether by education, the merchant marines, his mentor Hazard Reeves, society wives, or in a successful business, he had bent, rotated, shuffled, winged all edges within reach to his will.
This was Dad's very last patent.  It was a suitable testament to his passion – in a hobby sense of the word – in life and the very best part of his character in his later years.  Also, of course, the opportunity to scope out babes.
If you are a female reader of the Bernard Olcott Story, please be on the lookout for my Dad!!!  Whatever you do, don't go near the keel!
*   *   *
Today's post is dedicated to Thomas Perkowski, a friend of my Dad's, patent attorney, and client of Olcott International.  He made a special request for a sailing and patents story — voilà!